Contact CHIROCARE Health Centre
We'd love to hear from you! Call us at (204) 488-2273

CONTACT
CHIROCARE Health Centre
200-1420 Taylor Ave
Winnipeg, MB R3N 1Y6
T: (204) 488-CARE (2273)
Office Hours
M
8:00 – 12:30
3:00 – 6:00
T
9:00 – 11:00
3:00 – 6:00
W
8:00 – 12:30
3:00 – 6:00
T
8:00 – 12:00
3:00 – 6:00
F
8:00 – 12:30
3:00 – 6:00
Office hours are subject to change and our doctors and therapists may have differing schedules, please call (204) 488-CARE (2273) to ensure availability of services at your desired time!

FIND US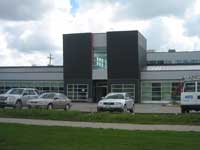 We are conveniently located just west of the Taylor Avenue and Waverley Street intersection, in the TOWERS building beside the Reh-Fit Centre.
Look for our sign that says CHIROCARE right on the building– Our entrance is right under our sign and we have reserved parking directly in front of our door for your convenience, just drive up and walk right in!
For those of you arriving by Public Transportation, route 95 takes you to our doorstep, just use the stop at "Ash" street.
If you have any questions call (204) 488-CARE and someone will get back to you as soon as possible so you can start receiving care today for a better tomorrow!
---
Chiropractor River Heights Winnipeg | (204) 488-2273